Everyone is welcome at Wesley. We invite you to come visit and see how God's love can fulfill your purpose.
We are a faith community of diverse people who are committed to making followers of Jesus by growing faith, serving the community, and building relationships.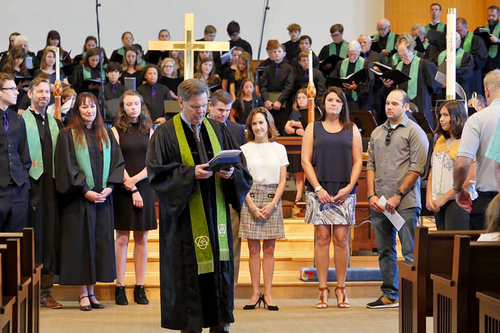 Are you interested in visiting our church or becoming a member of Wesley UMC? We would love to connect with you! Fill out the online connect card linked above and below so we can get to know you.
"I want to get more involved"
There are so many options for spiritual growth here at Wesley. If you've been attending services or have become a member and still wonder, "Now what?" we'd love to help you grow further in your faith through discipleship classes, Sunday school, small groups, and more.
The mission of our church is to bring awareness about God's existence to people of all backgrounds and encourage them to learn their own faith. If you wish to get more involved in our church as a volunteer to help those in need within our local community and beyond, a wide variety of opportunities are waiting for you!
Traditional Services
(Sanctuary)
Modern Service
(Celebration Space)
Pastor Greg's "Pastor's Bible Study"
Watch Our 11 AM Traditional Service Live
Watch Our 9:30 AM Modern Service Live
"As dark as these days have been…"
"It is not that which we will remember. For darkness never reveals; its only ability is to obscure. In time, what we will remember is how we persevered, how we prevailed, and how God got us through this awful year."
~ Greg Porterfield, Senior Pastor ~
Make sure to subscribe to our YouTube Channel.
Every other Thursday, we will be bringing you a new mini series based around the music experienced in our services. This week, we take a look at the thought process behind choosing another song from our 9:30 AM Modern Service, and what those songs mean to members of our worship team.
It felt so good to have Wednesday evening programming back last night! From children's choir to the adult classes, it was great to see so many smiling faces in the middle of our week.
We'd love to hear from you. Fill out the form below to get started.