another opportunity for worship at wesley
These last months have marked a notable increase in worship attendance at Wesley and therefore have had us turn our attention to whether or not we should add an additional service of worship at Wesley on Sunday mornings. And, after a lot of thought we realize that the success of any additional service depends as it always has - on you - the congregation. In our thinking we believe that the return of an 11:05 modern worship time is the most viable option at this time. However that is our thinking and its implementation is entirely dependent on you. Of course, a necessary ingredient to any worship services' experience is the people that choose to attend. While the new service will need additional volunteers to help with technical and administrative help what will be most critical is that we identify a core group of people (around a hundred) who will commit to regularly (say three out of four Sundays a month) worshipping at this new time. It is also important that we identify one hundred people that will remain regularly at the 9:30 modern worship experience. We do not want to add an additional worship experience at the cost of harming our already existing worship opportunities. Therefore we are asking members of Wesley to make a commitment to one or the other modern worship expressions.

*100 people who commit to attending regularly (3 out of 4 Sunday's a month) worship at our new 11:05 modern worship experience and intend to invite someone not presently attending worship to join them at Wesley.
*100 people who commit to attending regularly (3 out of 4 Sunday's a month worship at our 9:30 worship experience and intend to invite someone not presently attending worship to join them at Wesley.

To make your intention known you can sign up at the church office or online. When we receive the necessary commitments, we will be able to proceed, however only when we receive this level of commitment. We anticipate that this new worship schedule will begin in conjunction with our fall programming. As we planned for this new worship opportunity all who were thinking of it were reminded how important the participation of our membership is to the creation of vital worship. Your presence is of estimable importance and there is no substitute when you are not here.
Thank you for your presence in Wesley there is no better witness to what God is doing in this church than you.
I'll see you in worship, either online or in person
- Greg
Vacation Bible School - June 13-17
Go ahead and make your summer plans to join us June 13-17 for Vacation Bible School! This year's theme will be:

Make Waves: What You Do Today Can Change
the World Around You!

We hope you will save the date and join us
for this year's week of fun and spiritual growth!
VBS is open to Kidz who have completed Pre-K 3 through 5th grade
Hometown Mission Donations
We are still taking donations for Hometown Mission Week! Show your support for this amazing project by taking a tag from one of the pegboards in the foyer or narthex. Purchase the item on that tag and drop it back off at the church.

Contact Kate Morris at kate@wesleyumc.net for questions regarding item specifics, and Aaron Talbott at aaron@wesleyumc.net for questions about Hometown Mission Week.
Register Now for our Upcoming STEM and Art Camp
Looking for a fun filled camp for you child this summer?
This year we are offering both an Art Camp and a STEM Camp!

This years STEM Camp will be filled with activities
ranging from robotics, science, and engineering with LEGOs.
or join us for Art Camp and spend a week drawing, painting, and creating fun art projects.

Space is limited so sign up here today!



Looking for some new adventures this summer? Whether its kayaking the serene 18, exploring the zoo, or just dropping the kids off for a fun day of camp so you can relax, Wesley has it all! Check out our ever-growing list of summer activities and don't miss out on the fun!

Click the link down below or go to "Summer Events" in the header for more info.
Are you interested in visiting our church or becoming a member of Wesley UMC? We would love to connect with you! Fill out the online connect card linked above and below so we can get to know you.
"I want to get more involved"
There are so many options for spiritual growth here at Wesley. If you've been attending services or have become a member and still wonder, "Now what?" we'd love to help you grow further in your faith through discipleship classes, Sunday school, small groups, and more.
The mission of our church is to bring awareness about God's existence to people of all backgrounds and encourage them to learn their own faith. If you wish to get more involved in our church as a volunteer to help those in need within our local community and beyond, a wide variety of opportunities are waiting for you!
Everyone is welcome at Wesley. We invite you to come visit
and see how God's love can fulfill your purpose.
We are a faith community of diverse people who are committed
to making followers of Jesus by growing faith,
serving the community, and building relationships.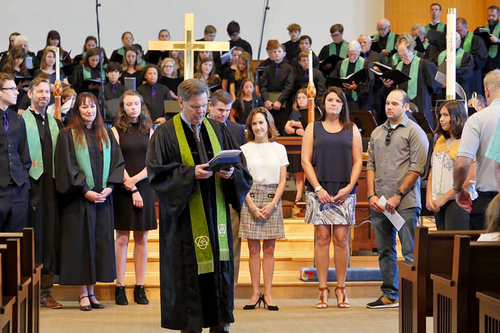 Traditional Services
(Sanctuary)
Modern Service
(Celebration Space)
This month we are highlighting the amazing work done by our student ministry. With Hometown Mission coming up we sit down with some volunteers from last year. Watch and listen as they tell their stories about what made last year special to them.
If you'd like to get involved with Hometown Mission Week we are taking donations now! Check the Foyer and Narthex for pegboards with items needed.
Lew Bandy and his incredible team of Faith Care Clinic volunteers serve the county by providing free health care for non-insured people in our community. This month we are collecting items to assemble UMCOR Hygiene Kits that will be ready to send as part of disaster relief. Cards with items of need can be found just outside the Celebration Space and Sanctuary.
We'd love to hear from you. Fill out the form below to get started.