Everyone is welcome at Wesley. We invite you to come visit and see how God's love can fulfill your purpose.
We are a faith community of diverse people who are committed to making followers of Jesus by growing faith, serving the community, and building relationships.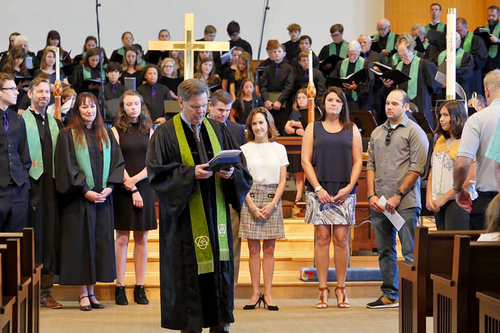 Our church is open and friendly with many social activities. To keep our church running smoothly, we have committees anyone can join.


The mission of our church is to bring awareness about God's existence to people of all ages and encourage them to learn their own faith.
If you wish to become a part of our church or a volunteer to help those in need, our community is awaiting you with our open hearts.


11 AM TRADITIONAL EASTER SERVICE (PRE-RECORDED)
Traditional Services
(In the sanctuary)
Modern Service
(In the gym)
Watch Our 11 AM Traditional Service Live
Watch Our 9:30 AM Modern Service Live
"As dark as these days have been…"
"It is not that which we will remember. For darkness never reveals; its only ability is to obscure. In time, what we will remember is how we persevered, how we prevailed, and how God got us through this awful year."
Make sure to subscribe to our YouTube Channel.
During the season of Lent, we are collecting bags of non-perishable food items to help those in need in our community. You can pick up empty bags at the church office, or at two other locations on campus. You can also drop off your filled bags at those same locations.
"From dust you came, and to dust you shall return. Repent, and believe in the Gospel." On Wednesday, February 18, we celebrated Ash Wednesday in a different, very 2021 way. this was the online offering of our Ash Wednesday service.
We'd love to hear from you. Fill out the form below to get started.