another opportunity for worship at wesley
We are considering the possibility of adding an 11:05am Modern Worship service in the fall that will be identical to the current 9:30am service.
We don't want to risk affecting the attendance at 9:30am, so it is critical that we identify a certain level of people to commit to attending each service.
That means we need:
100 people who commit to regularly (3 out of 4 Sundays a month) attending modern worship at 11:05am
100 people who commit to regularly (3 out of 4 Sundays a month) attending modern worship at 9:30am


To register your intention, click one of the buttons below. We will proceed only when we achieve this level of commitment.
- Greg
Looking for some new adventures this summer? Whether its kayaking the serene 18, exploring the zoo, or just dropping the kids off for a fun day of camp so you can relax, Wesley has it all! Check out our ever-growing list of summer activities and don't miss out on the fun!

Click the link down below or go to "Summer Events" in the header for more info.
Thursdays, June 23 through July 28 from 9:15 to 10:30 a.m. you are invited to meet up with other Wesley Moms to discuss Gary Chapman's 5 Love Languages for Kids.
Wesely Kidz will be offering a companion children's program and child care available. Older students will participate in Kidz Bible Club.
Church-Wide Family Green Jacket Game
Take me out to the ball game! Join your Wesley friends and make new ones at the Green Jackets Baseball game Wednesday, July 27. Pastor Greg will be throwing out the first pitch!
The cost is $10 per ticket. Reservations need to be made 2 weeks in advance for the discounted ticket. Leave Wesley at 5:30pm.
Are you interested in visiting our church or becoming a member of Wesley UMC? We would love to connect with you! Fill out the online connect card linked above and below so we can get to know you.
"I want to get more involved"
There are so many options for spiritual growth here at Wesley. If you've been attending services or have become a member and still wonder, "Now what?" we'd love to help you grow further in your faith through discipleship classes, Sunday school, small groups, and more.
The mission of our church is to bring awareness about God's existence to people of all backgrounds and encourage them to learn their own faith. If you wish to get more involved in our church as a volunteer to help those in need within our local community and beyond, a wide variety of opportunities are waiting for you!
Everyone is welcome at Wesley. We invite you to come visit
and see how God's love can fulfill your purpose.
We are a faith community of diverse people who are committed
to making followers of Jesus by growing faith,
serving the community, and building relationships.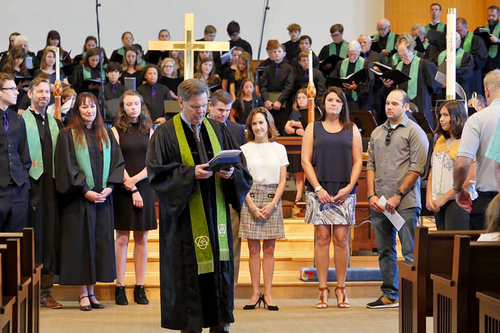 Traditional Services
(Sanctuary)
Modern Service
(Celebration Space)
This month we are highlighting the amazing work done by our student ministry. With Hometown Mission coming up we sit down with some volunteers from last year. Watch and listen as they tell their stories about what made last year special to them.
If you'd like to get involved with Hometown Mission Week we are taking donations now! Check the Foyer and Narthex for pegboards with items needed.
Lew Bandy and his incredible team of Faith Care Clinic volunteers serve the county by providing free health care for non-insured people in our community. This month we are collecting items to assemble UMCOR Hygiene Kits that will be ready to send as part of disaster relief. Cards with items of need can be found just outside the Celebration Space and Sanctuary.
We'd love to hear from you. Fill out the form below to get started.